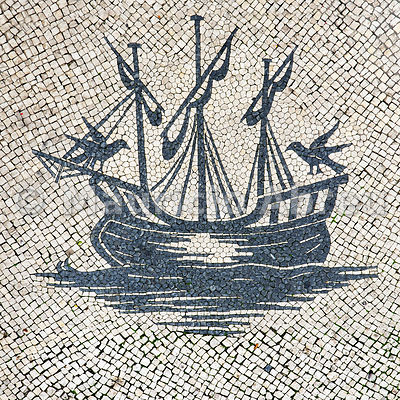 Portuguese cobblestone is known as one of the symbols of the city of Lisbon - its black and white pattern stretches across the city and paves almost every pedestrian pathway in town.
Originating in Rua Nova dos Mercadores, in 1498 by royal charter of King Manuel I, Portuguese cobblestone has turned into an art that has crossed borders with its roman-inspired mosaics and symmetry-rich patterns that depict everything from Caravelas and starry skies to dolphins and birds. The perfect execution of the "cobblestone masters" and the resistance of the material were some of the other factors that contributed to the success of this form of art.
Since, Portuguese cobblestone has been used in some of the most iconic locations across the world; the Calçadão in Rio de Janeiro, the Strawberry Fields Memorial to John Lennon in Central Park, NY or in Senado Square, one of the most important squares in Macau.
The Portuguese Mestres Calceteiros (cobblestone masters) are known worldwide and solicited for their expertise to teach and promote this art across the globe. However, Lisbon is indeed the greatest place to admire their art; just a few steps down from the hotel you can find the Marquês de Pombal square, masterfully decorated with the arms of Lisbon, or Praça Luís de Camões, in Chiado/Bairro Alto, embellished with depictions of the sea, mermaids and boats allusive to "Os Lusíadas", the epic poem by the author that gives the square its name. The Rossio Square is one of the most famous examples as well, and its "waves" have been copied thousands of times. Heading down to Belém, one can find a depiction in beige, black and red limestone of the mythical "Rosa dos Ventos" - a gift from the Republic of South Africa to Portugal that serves as the pathway to the Padrão dos Descobrimentos.
But Portuguese cobblestones aren't just an ancient tradition - they have been evolving with the times. In Chiado, just next to A Brasileira, the world's first ever QR Code in cobblestone is etched into the pavement, and famous Portuguese artist Vhils has created one of the most beautiful designs in recent memory with his tribute to both the Mestres Calceteiros - who he says were the first street artists in Lisbon - and Fado singer Amália Rodrigues. A spectacular installment that can be found in Alfama, and has quite a particular characteristic as the figure appears to cry when it rains.
We Recommend:
- Amália Rodrigues, Rua de São Tomé, Alfama. By Vhils
- Rosa dos Ventos, Belém
- Praça Luís de Camões, Chiado
- Largo do Rossio
- Praça do Marquês de Pombal
You can also find a cobblestone QR code in Chiado here